Dealer Tools
We are extremely active in the business and want to take care of our customers, so if you ever have an issue that can't be resolved through the normal channels, we're here to help, so please reach out to us.
Dealer Portal: (Best Option): www.sbfilters.com - click My Account in the upper right corner. Once you login, if you don't see your dealer pricing, please email us at 

customerservice@sbfilters.com

 and specify which emails you want added to your account. 
Email: neworders@sbfilters.com
Fax: (909) 947-0603
Text: Simply text us the part number and boom, your order will ship to your default shipping address. To use this service, please email (

customerservice@sbfilters.com

) the phone number(s) that you will use to text in orders, so we can set this up in our system. 
Call: (909) 947-0015
Distributors: If you prefer to purchase S&B from a distributor when you are placing orders for other parts, we use Premier Performance for the S&B brand and Turn14 for JLT. 

Premier Performance (S&B Product Line)
(888) 497-3666
premierwd.com

Turn14 (JLT Product Line)
(877) 788-7614
turn14.com

Want a bigger discount?
At any time you can do a one-time buy-in of $5,000 to immediately bump your discount to 33%. If you purchase $5,000 worth of product in a year, you can also request the 33% discount. If you don't know what to order right now, you can place the $5,000 as a credit and use it when you need it.  
How to make the most money selling S&B?
If you place an order with us totaling $5,000 or more, we will ship the products to you via freight for free (Continental US and some locations in Canada). Our free freight program allows you to make the full 33% discount which equals $115.17 on a $349 intake kit. Please note that in order to get free shipping on S&B Tanks, you need to order 8 tanks on a single order.
S&B has released a ton of new products over the last few years. We're not just intakes and air filters anymore, so follow along with Katie as she walks you through all the exciting products S&B has to offer.
Our mission at S&B is simple. Provide customers with innovative products while protecting the profit margins of our dealers. We take our Unilateral Pricing Policy extremely seriously. If there is a violation, we will terminate our relationship with that dealer. If you see a violation in the marketplace, please report the incident at customerservice@sbfilters.com, and we will take immediate action.
FLAT RATE SHIPPING FOR DEALERS IN CONTINENTAL USA.
S&B has our own distribution centers in Louisville, KY and Yuma, AZ in order to get products to you as quickly as possible. In most cases, we can reach all our dealers in the continental US in 2 days or less. We will ship from our closest warehouse to your location that has inventory via FedEx Ground unless you specify otherwise on your order. Our cutoff times are 1pm (PST) for Kentucky and 2pm (PST) for Arizona.
Intake Kits, Particle Separators, Intercooler Pipes & Body Mounts - $12
Air Filters - $7.50 ($4 per filter if ordering 2-4 at a time)
Diesel Fuel Tanks - $99 (ships only from AZ warehouse)
Water Tanks for Sprinters - $40 (ships only from AZ warehouse)
FREE SHIPPING PROGRAM FOR STOCK ORDERS.
On orders of $5,000 or more (excluding tanks), S&B will cover the shipping cost in the continental USA and many locations in Canada. To receive free shipping on Tanks, you must place an order for 8 at a time. S&B allocates no more than 5% of the order to cover shipping costs. If the freight cost exceeds this amount, we will reach out to you to make other arrangements. Please allow 2-4 weeks for stocking orders to ship
We've joined the ASAP Network.
You now have access to our product load sheets including images, videos and instructions along with banners you can use on your site, 24 hours a day for FREE.

Why it's essential that you create your dealer account and request our data?
Once you've requested our data you will be automatically notified of any changes to our line, pricing, or images. Your business will show up under the "find a dealer" on the ASAP Network. This means a new link to your site.
Please take a minute to create your dealer account on https://www.asapnetwork.org/user/register and request our data.  Find our data by clicking on the SEE BRANDS tab and choose S&B
There is staff from the ASAP network that is standing by to help you with questions you have regarding S&B Data or account setup. Please contact 719 432-9415 Directly.

Need the S&B Logo File?
Download the zip file.
NEW PRODUCT DISPLAYS MAKE SALES EASY.
We have great point-of-sale displays that will brighten up your showroom and help close the sale. These are available at no charge. To get your free display, all you have to do is purchase at least 3 units of a specific product category and then send the invoice to customerservice@sbfilters.com requesting that display.
All parts must ship to the same address. One display per location.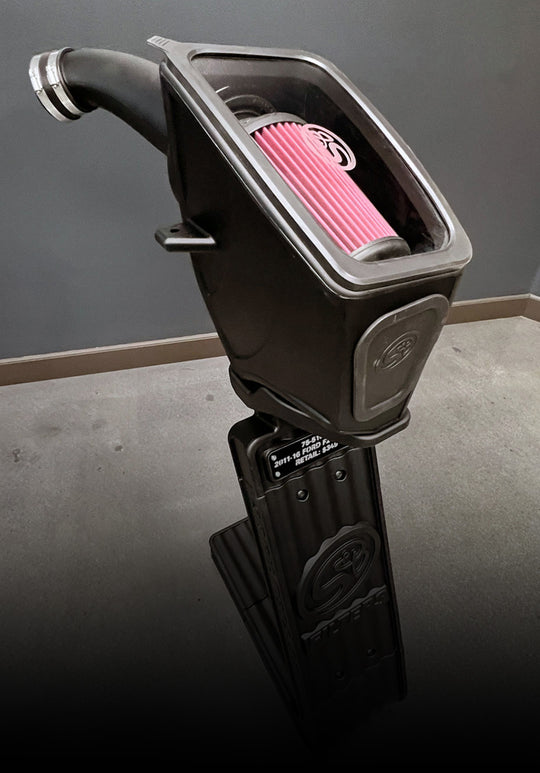 COLD AIR INTAKE
Our standing Cold Air Intake display features a full size S&B Ford Powerstoke Cold Air Intake.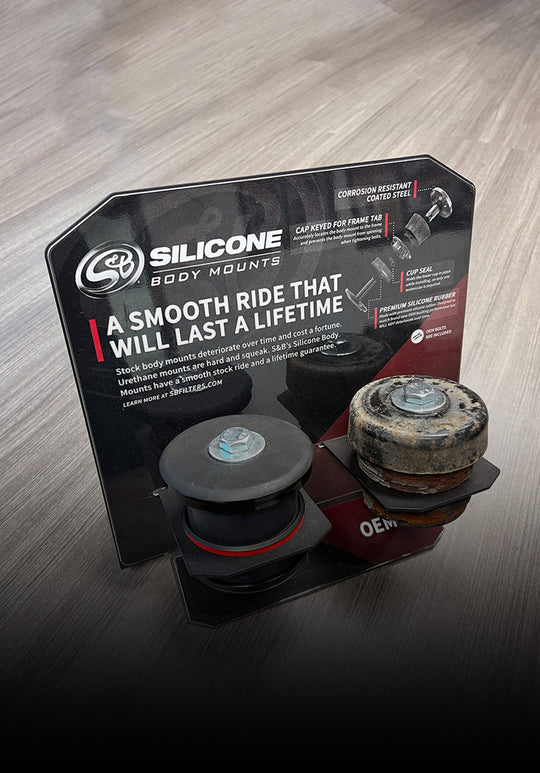 Silicone Body MOunts
Our Body Mount display features a full size body mount comparison of a new S&B mount vs deteriorated OEM Mount.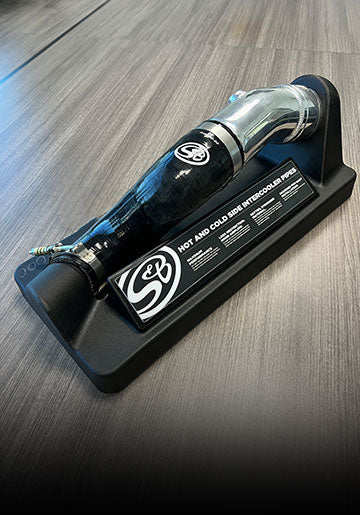 Intercooler PIPE
The S&B Cold Side Intercooler Pipe display features a larger than stock 3.50" diameter polished aluminum CAC pipe.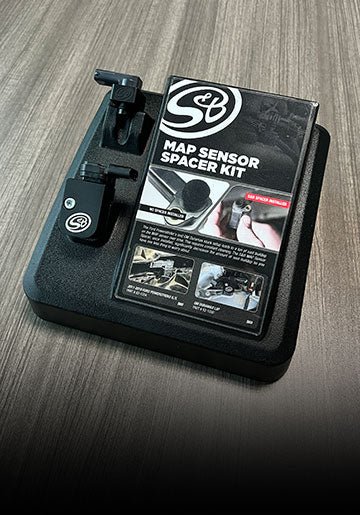 MAP SENSOR SPACER
The S&B MAP Sensor Spacer display highlights how it will significantly decrease the amount of soot buildup on your MAP.